Kelly Obermiller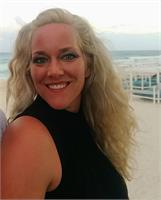 Kelly has been an extreme sports enthusiast all her life. It began with Motocross racing, transitioned to wakeboarding and water skiing, and then snowboarding. Kelly earned her degree in Family Studies and Early Childhood Education while competing on the Wakeboard Team at The Ohio State University. The quest for the perfect slope inspired Kelly to move to Colorado where along with snowboarding, she enjoyed whitewater rafting, hiking and downhill mountain biking. Both in Ohio and in Colorado she has directed and taught at various extreme sports camps serving children, adults and people with special needs.

Kelly was first introduced to yoga at a sunrise class overlooking the serene Rockies. Yoga improved her balance, strength and flexibility, but went far beyond the physical realm by deepening her connection to self and spirit. Kelly moved back to Ohio in 2012 to be close to family. She graduated in November 2013 from the Still Waters Yoga Teacher Training Program. Kelly wants to support you in living your life to the fullest every day!
Kelly Obermiller is currently not instructing any classes.