Michelle Clay Gartland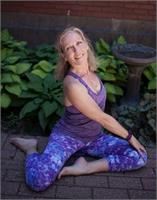 Michelle is a wife, mom, grandmother and lover of life. She attributes her love of life to her grandparents who taught her to 'Count it ALL Joy". She is passionate about her family, granddaughter & practicing a healthy lifestyle. She loves gardening and long walks in the woods. She also holds a business degree in computer communications and has worked as a Software Engineer for 22 years. Originally from Cincinnati, she has lived in Toledo for 17 years.
She has had a dedicated yoga practice for 8 years. Feeling there was more to yoga than just the postures and wanting to share her love of yoga with others, she decided to learn to teach. She feels that the experience has brought positive changes to her life and now wants to show others how they might bring positive change to their lives by connecting mind, body & spirt through the wonderful journey of yoga.
Michelle is a 2016 graduate of Still Water Yoga Teacher Training and is a member in good standing of the Yoga Alliance.
Michelle Clay Gartland instructs the following:
Connect your mind – body – spirit with this gentle yoga flow class. Here you will build a foundation for yoga with an emphasis on alignment and learning to connect your breath with movement. This class is for beginning yoga students or anyone who wants to return to the basics.

New to Still Waters Yoga? Go to

www.stillwatersyoga.com/ContactUs/HealthHistoryForm

to access our Health History Form. Please bring your completed form with you to your first class. NOTE conditions that require PHYSICIANS RELEASE FORM and request from your physician and bring to class with you. Minors....please have parents sign your health history forms!!!